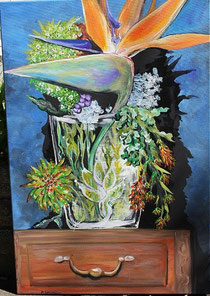 A two year old toddler will never walk. Her diseased brain has turned against her. She will go blind and her motor skills will cease as she has only five short years to live. The small one's sweet mother tells her story through tears as from time to time it becomes unbearable for her to remain unaffected at work.
The baby's mom is a caring nurse at the local family practioner's office.
A flea market and a benefit have cropped up to help out. Fellow employees originated and planned everything out in the hopes of monetary values to bandaid some sort of relief to the family.
I donated one of my fav paintings, "Bird of Paradise" to the benefit.
June 30, 2013 at Clancy's By The Bay, Somers Point, NJ....... 4pm to 9pm.
$25 for food and silent auction..... cash bar
Many other lovely offerings for bidding, too.    609- 927-6969